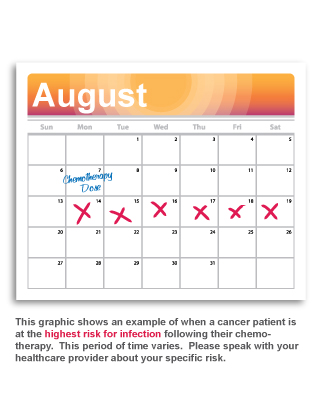 Chemotherapy treatment will usually involve a number of chemotherapy doses (sometimes called cycles). The period of time beginning 7–12 days after you finish each chemotherapy dose—and possibly lasting up to one week—is when you have the fewest white blood cells in your body. Because of this, it will be extra hard for your body to fight off germs during this time.
This period of time is sometimes referred to as nadir, which means "lowest point". For example, if you have chemotherapy on August 7, you are at highest risk of picking up an infection between August 14 and August 19. This period varies slightly depending upon the chemotherapy drug, or combination of drugs, used.

What Can You Do During Your Nadir?
Find out from your doctor and/or nurse exactly when your white blood cell count will be at its lowest.
Be extra careful during this time.
Try to remember to take your temperature every evening, and call your doctor if you have a temperature of 100.4ºF or higher for more than 1 hour, or a one-time temperature of 101ºF or higher.
To find out your risk for developing a low white blood cell count (neutropenia), take our short RISK ASSESSMENT.